---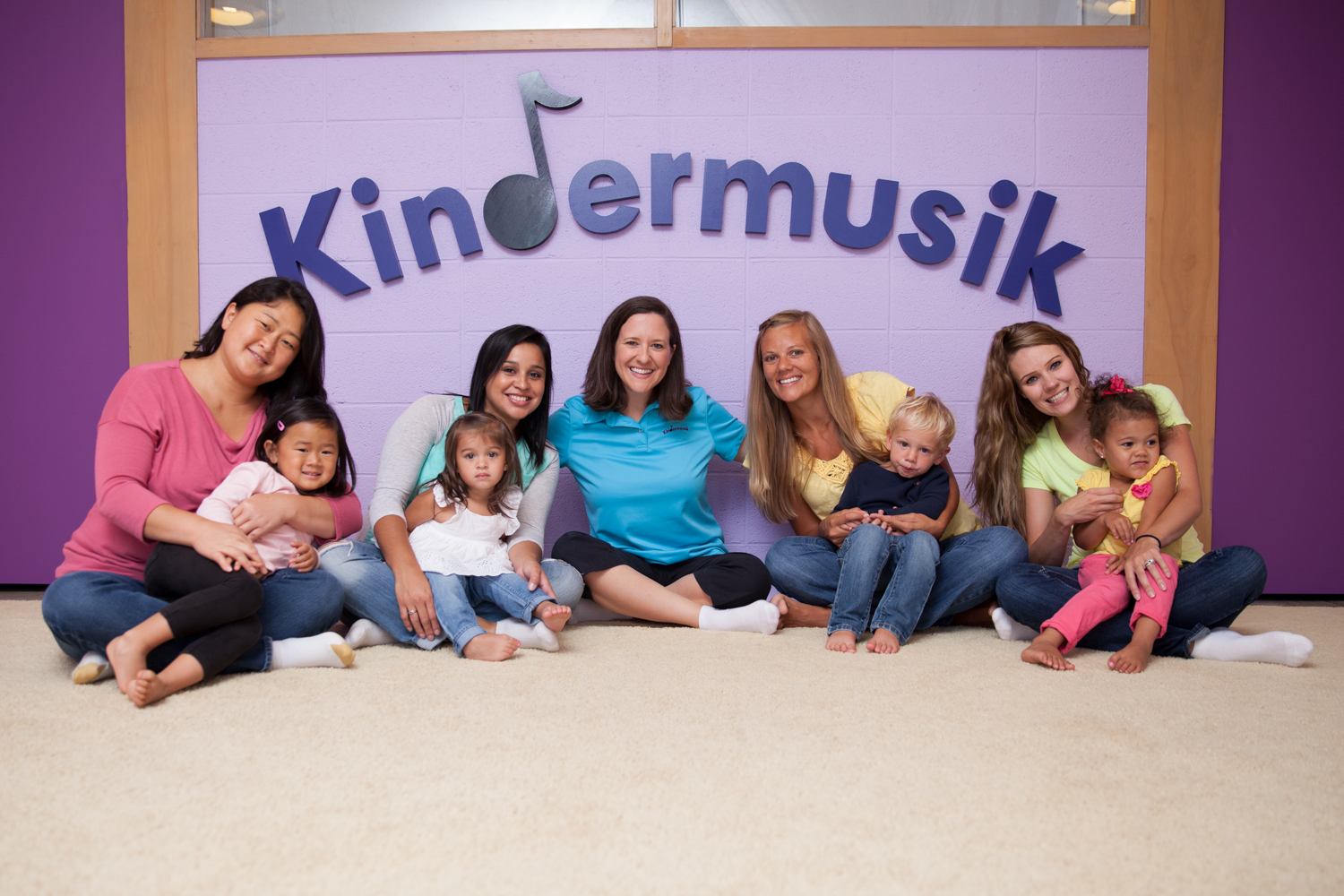 "I was originally drawn to Kindermusik at HMS because I was seeking some fun and formal music training for my young girls. In getting to know her and her class, it was immediately evident that Emilie truly loves children and carefully plans their experience with her. I am so impressed with her ability to integrate child development with music skills and concepts. She even follows all her classes up with emails explaining the concepts covered in class so parents can build on them. But what says it so much more clearly is something my 4 year old said after a recent class, 'Mommy I love everything about that!' Kindermusik is a highlight of our week." Katie O.
"My daughter has been going to Kindermusik at HMS for three years now and she absolutely loves it (and Emilie)! Before Emilie was offering classes I had my son enrolled in Kindermusik. Over the years he had four different teachers and Emilie has been our favorite by far! She goes above and beyond the rest by genuinely connecting with the kids in class and informing parents on lesson objectives and with class follow up emails. I definitely recommend her!" Abbie H.
"Kindermusik helped my son learn skills he can use the rest of his life. It made learning new things fun and exciting. He really enjoyed playing the instruments, listening and singing to music, and dancing. Miss Emilie is a wonderful teacher and has a gift for working with kids. Thank you Miss Emilie!" Anna B.
"This is my and my son's second session in Kindermusik. Matthew just turned two and really loves the class. The music is fun and upbeat. I get personal time with my son to bond more. Daddies, mommies, and all families are welcome and encouraged to really work with the children. Matthew gets play time with children his age and he really observes the other kids and learns from them. The program is structured yet flexible. Matthew is never bored with the class, it is non-stop things to do; lots of movement. Matthew gets so excited when he is in class. Now even more when he hears music everywhere. I love to see his face light up when he listens to music. The interaction is really great for him too." Amanda M.
"We love Kindermusik at Harmony Music School. The classes are well designed to stimulate our children's growth and development and are lots of fun. We have lots of priceless memories of our times in Kindermusik." James B.
"Miss Emilie's students know they are in a safe and loving environment in her Kindermusik classroom. This helps them build confidence to explore new things while having fun. Kindermusik allowed our daughter to not only grow musically but also in so many other areas of everyday life." Jodi M.
"Kindermusik at HMS was the highlight of our week. It gave my son a safe place to explore music and movement and reinforced listening and following directions, which was so helpful in our everyday interactions!" Jade M.
"My family and I fell in love with Kindermusik from the very beginning! As a first time mom who stayed home, Kindermusik was exactly what we needed! It gave us some structure to our week and got us out of the house. We made new friends, many of which we still have and we simply adore Miss. Emilie! Her passion for music is contagious and her love for children is apparent in everything she does. My son's early childhood experience with Kindermusik is one I will always remember fondly and was worth every penny. I highly recommend it to everyone I know and always will. We wholeheartedly LOVE Kindermusik and the many wonderful thing it offers. If Kindermusik is something you're considering, I say "do it", you will be so glad you did!!" Connie W.
"I love Kindermusik! I love that each class has a lesson focus for parent and child; social and emotional development, gross and fine motor development, cognitive, and language development. My daughter started when she was 6 months old and loved it from the very beginning, she has a genuine love for music and playing a variety of instruments. Kindermusik class has taught her about being patient, taking turns, listening to a teacher, new music, and so many other things. There is also a home reinforcement of Kindermusik with books and musical instruments. When we listen to Kindermusik at home, I see my daughter dancing and remembering what we did in class and it amazes me! As a parent, I also love the digital material for other ideas for at home crafts and play time. Overall, I absolutely LOVE Kindermusik and Miss Emilie." Tifany J.
"Miss Emilie is a natural with children. Her knowledge, energy and enthusiasm show her love of music and teaching. We have done Kindermusik for several years with our 3 children, Miss Emilie is by far THE BEST music teacher we have ever had! She is caring and patient, and she explains exactly what every activity is teaching our daughter. The classes are perfectly paced with different activities so the kids don't have a chance to get bored. The 'at home' materials are great and really enhance the whole Kindermusik experience. I know that these classes are the perfect beginning to a lifetime of music appreciation. We love Kindermusik with Miss Emilie!" Christy B.
"I can tell my daughter is a fan of Kindermusik, when every time we get in the car she asks for her "Miss Emilie music". She has even started singing along! I attribute a lot of my daughter's speech development and comprehension level to what she has learned in Kindermusik. Out of all the activities my daughter is involved in, Kindermusik is our favorite and top on the list!" Rachel B.
"Dear Mrs. Emilie,
In the Fall of 2011, we were looking for a social activity for our daughter. We had never heard of Kindermusik when we enrolled our child in your Village class. As her first teacher/educator, you have made our family's experience much more than a way to bond with our baby through music. You have the God given talent of making every child in your classroom feel special, happy, and loved every week. Your natural musical ability and positive attitude goes a long way in making children feel comfortable and parents feel like they have made a great choice emotionally, socially and financially.
Our family has received numerous benefits from participating in your Kindermusik program over the past 2+ years. We have learned about and explored many aspects of music, made fantastic new friends, helped make the transition to day care easier and most important we discovered a fun family activity that we can enjoy with our daughter every week. We cannot thank you enough for sharing your musical talent and knowledge with us and bringing such a positive and caring attitude to each and every Kindermusik class. Our child is now having a blast during Laugh and Learn and leaves each class with musical knowledge, having played with friends, and feeling like Mrs. Emilie is her BFF:-)
We truly appreciate you and all of your hard work. It really contributes to making Kindermusik a special and fun experience." Taryn K.